Description
Project Blu was born from a desire to do better. Breaking the mould of the traditional manufacturing processes to offer products that are sustainable, high quality and built to last. Their love of pets and the planet is at the heart of everything they do.

As cool dog collars go, the Bengal eco-friendly dog collar offers just the right pop of colour and brings with it some serious eco credentials. We combine ocean-bound plastic and recycled clothes into a unique fabric mix that is soft, durable and extremely hard wearing. We use this Eco-Fabric to make our beds and our fabric collars, leashes, and accessories. We work with local coastal communities in India and the Philippines to collect plastic waste.
Made from Recycled Polyester and Cotton
Care: Wipe with a damp cloth and leave to try naturally. 
This is a certified B Corp company. B Corp Certification is a designation that a business is meeting high standards of verified performance, accountability, and transparency on factors from employee benefits and charitable giving to supply chain practices and input materials.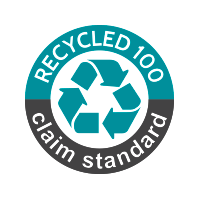 The RCS (Recycled Claim Standard) is used as a chain of custody standard to track recycled raw materials through the supply chain.