Powerful, captivating and incredibly vulnerable to poaching and reduction in prey.
The elegant snow leopard is one of the world's most elusive cats. Sparsely distributed across 12 countries in central Asia and the Himalayas, it's usually found in high, rugged mountain landscapes at elevations of 3,000–4,500m.
You'll receive:
Cuddly Toy
An optional soft toy to love forever. Toy may vary from image shown.
Welcome Pack
Choose between our standard welcome pack or a pack created for children under 12.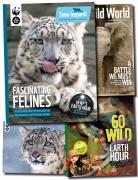 Regular Updates
We'll keep you updated on how you're supporting our vital work including sending your adoption updates three times a year.
Certificate and Background
Get a personalised adoption certificate and a lovely snow leopard video call background.
Unlike other big cats, snow leopards cannot roar.
Your adoption really helps.
Animal adoptions like yours give a huge boost to our work. They not only help fund our work with local communities to monitor snow leopard movements and reduce human-snow leopard conflict but also fund our other vital work around the world.