Sadly, there are more tigers in captivity in the US than are left in the wild. There's now estimated to be around 4,500 wild tigers globally.
Each tiger has a unique set of stripes – like a fingerprint – and this helps us identify individuals in the wild. Tiger populations have declined by around 95% since the beginning of the 20th century. The tiger is officially classed as endangered by the IUCN. You can adopt a tiger for yourself or as a gift for a loved one.
You'll receive:
Cuddly Toy
An optional soft toy to love forever. Toy may vary from image shown.
Welcome Pack
Choose between our standard welcome pack or a pack created for children under 12.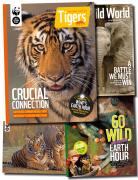 Regular Updates
We'll keep you updated on how you're supporting our vital work including sending your adoption updates three times a year.
Certificate and Background
Get a personalised adoption certificate and a lovely tiger video call background.
Unlike many cats, tigers like water and they are excellent swimmers.
Your adoption really helps.
Animal adoptions like yours give a huge boost to our work. They not only help fund projects to work with local communities to monitor tiger movements, reduce poaching and help people to realise benefits from living in close proximity to wild tigers - but they also support our other vital work around the world.