It's estimated that only around 1 in 1,000 marine turtle hatchlings make it to adulthood.
There are seven species – hawksbill, leatherback, loggerhead, flatback, olive ridley, Kemp's ridley and green turtle - and at least six of the seven species are at risk of extinction.
You'll receive:
Cuddly Toy
An optional soft toy to love forever. Toy may vary from image shown.
Welcome Pack
Choose between our standard welcome pack or a pack created for children under 12.
Regular Updates
We'll keep you updated on how you're supporting our vital work including sending your adoption updates three times a year.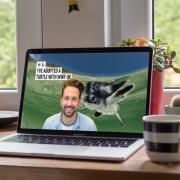 Certificate and Background
Get a personalised adoption certificate and a lovely turtle video call background.
Turtles have light, spongy bones that help them float.
Your adoption really helps.
Animal adoptions like yours give a huge boost to our work. They not only help fund projects to work with local communities to monitor turtle movements and protect their habitat but also fund our other vital work around the world.