The magnificent elephant is under threat; around 55 African elephants are killed a day for their tusks. Key populations are in decline due to poaching and a shrinking habitat.
In Asia, elephants have disappeared from approximately 85% of their historic range. While in Africa, poaching is an ever-present threat - this is largely due to illegal demand for ivory in Asia.
You'll receive:
Cuddly Toy
An optional soft toy to love forever. Toy may vary from image shown.
Welcome Pack
Choose between our standard welcome pack or a pack created for children under 12.
Regular Updates
We'll keep you updated on how you're supporting our vital work including sending your adoption updates three times a year.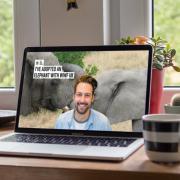 Certificate and Background
Get a personalised adoption certificate and a lovely elephant video call background.
Female elephants live in close family groups, led by the matriarch.
Your adoption really helps.
Animal adoptions like yours give a huge boost to our work. They help fund our work to protect elephant habitat, reduce poaching and address human-elephant conflict. They also help fund other vital work around the world.