Description
Project Blu was born from a desire to do better. Breaking the mould of the traditional manufacturing processes to offer products that are sustainable, high quality and built to last. Their love of pets and the planet is at the heart of everything they do. 
Treat your pet and save the planet with the Project Blu Pet Toy range. The Project Blu Plush Dog Toy is made from 100% upcycled plastic bottles and recycled clothing and includes a built-in squeaker to engage and amuse your dog. Its soft, plush texture makes this toy the perfect cuddly companion and playmate all in one. 
This is a certified B Corp company. B Corp Certification is a designation that a business is meeting high standards of verified performance, accountability, and transparency on factors from employee benefits and charitable giving to supply chain practices and input materials.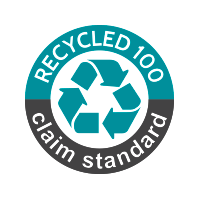 The RCS (Recycled Claim Standard) is used as a chain of custody standard to track recycled raw materials through the supply chain.